Wondering what to make with your pork carnitas? I'm giving you 13 delicious sides that will pair perfectly with your carnitas and that the whole family will love!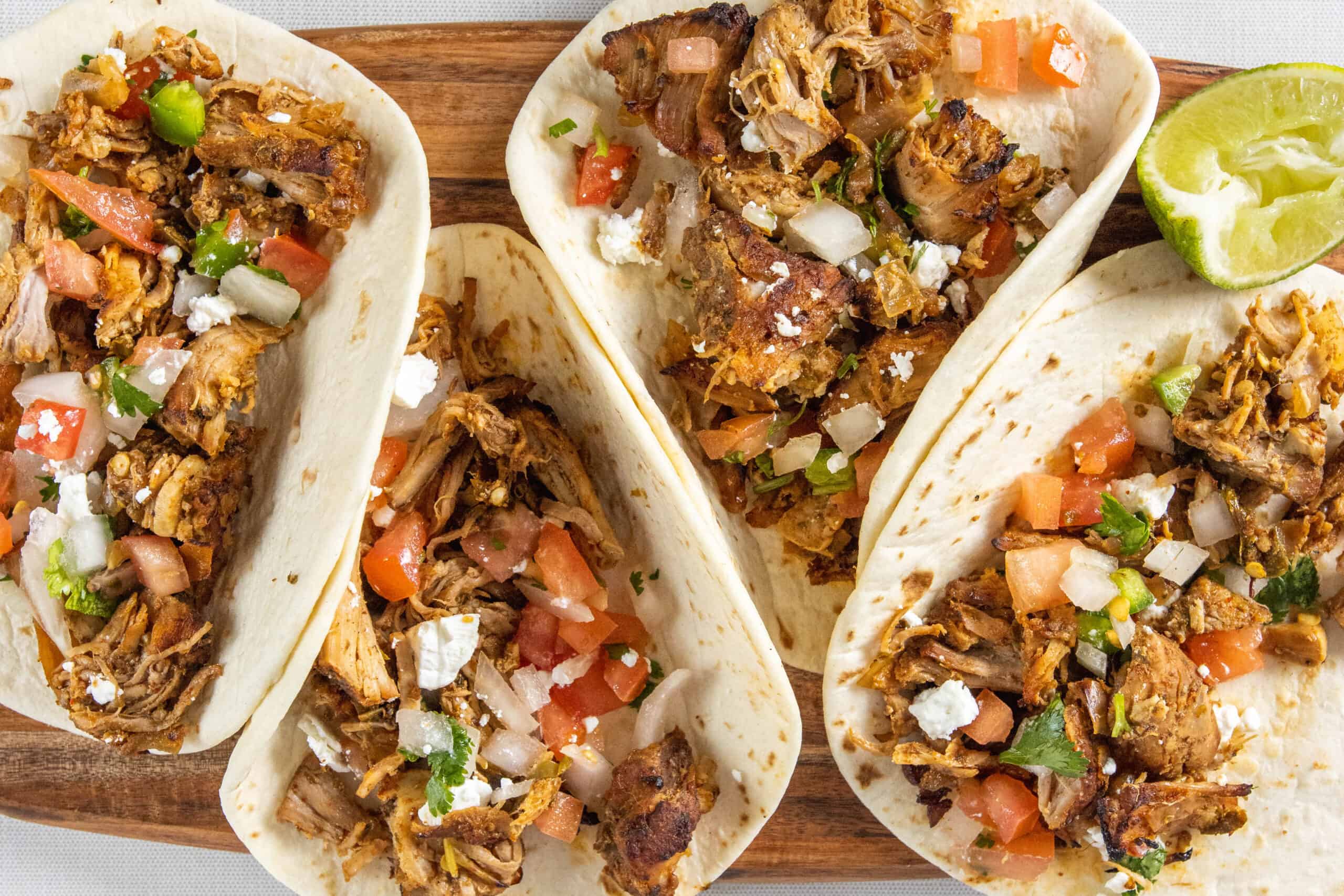 Jump to:
What are some different ways to serve carnitas?
As a taco with chopped onions, cilantro, and salsa.
As a burrito or burrito bowls with rice, beans, guacamole, and your other favorite toppings.
By itself with rice and beans on the side.
As a torta (Mexican sandwiches) with crusty bread, avocado, and pickled vegetables.
Making the Mexican rice is simple and quick, and it's a must-have side dish for any of your preferred Mexican dishes.
Do you agree that cilantro lime rice is the perfect rice for burrito bowls and most Mexican dishes? (For those who dislike cilantro, kindly skip this part.)
Try making elote at home with grilled corn, mayo, sour cream, chili powder, cotija cheese, and lime juice. It's easy and delicious!
Elevate your ordinary cornbread by mixing in jalapenos, cheddar, and buttermilk with Jiffy Cornbread Mix. These Jiffy Jalapeno Cornbread Muffins will surely steal the spotlight on your dinner table.
Try this delicious black bean salad with a tangy lime dressing for a refreshing and healthy side on a hot summer day.
Keep it easy and pick up a salad kit from your grocery store.
Prepare yourself for this delicious homemade guacamole! It is perfect for tacos, nachos, or toast. You can use it as a topping for almost anything.
8. Salsa and Chips
Another easy side to serve with Carnitas. It would go great with your favorite salsa and chips.
Make the ultimate Tex-Mex side in under 30 minutes with our top tips for a smooth and cheesy queso that's sure to be a crowd-pleaser.
Impress your family with this creamy and spicy bean dip. Made with beans, salsa, cheese, cream cheese, sour cream, chili powder, and cumin, it's the ultimate flavor combination.
Make a tasty Chicken Tortilla Soup in 30 minutes with juicy chicken, fresh tomatoes, sweet corn, black beans, avocado, cheese, and crispy tortilla strips. Perfect for a quick and satisfying dinner.
Try a delicious bowl of Mexican pozole, made with tender pork, hominy, and spicy red chiles. Add toppings like shredded cabbage, radishes, cilantro, lime, and avocado for a satisfying meal.
These jalapeño poppers have a creamy center and crispy bacon coating. They're simple to prepare and offer a much more enjoyable taste than regular poppers.
Carnitas Recipes
Carnitas Questions
How do I achieve crispy carnitas?
To make crispy carnitas, slow-cook pork until tender. Heat a few tablespoons of oil in a pan over medium-high heat. Fry the pork until crispy.
How can I make the best carnitas?
Using the right cut of pork: Traditional carnitas use pork shoulder, or pork butt, for juicy and flavorful results.
Cook low and slow: Carnitas should be cooked low and slow. If you don't cook the meat long enough, it will turn out tough.
Don't forget to fry the meat: For crispy shredded pork, brown it in a pan. Don't overcrowd the pan so it can brown properly.
How long do carnitas last in the refrigerator?
Refrigerate carnitas in an airtight container to last 3-4 days. Freeze them for up to 2-3 months.
Can I use a different type of meat for carnitas?
Carnitas are usually made with pork, but you can use chicken, beef, or jackfruit as a vegetarian option. There are a ton of great recipes online.
What to Serve with Carnitas: 13 Delicious Mexican Sides
Wondering what to make with your pork carnitas? I'm giving you 13 delicious sides that will pair perfectly with your carnitas and that the whole family will love!
Print
Pin
Rate
Ingredients
Spanish Rice

Cilantro Lime Rice

Elote

Mexican Street Corn

Corn Bread

Black Bean Salad

Southwest Salad

Guacamole and Chips

Salsa and Chips

Queso and Chips

Refried Bean Dip

Tortilla Soup

Pozole Soup

Jalapeno Poppers
Instructions
Select your favorite side.

Gather all the ingredients.

Make your delicious recipe!
Don't know what to make this week?
Join the email list & get a free e-book: Easy Dinners for Lazy Nights