Are you looking for ideas on what to serve with your taquitos? Whether it's a sauce to dip your taquitos in, a side dish to make it a complete meal, or an additional appetizer for game day, I've got you covered with 15 delicious recipes that pair perfectly with your favorite taquitos!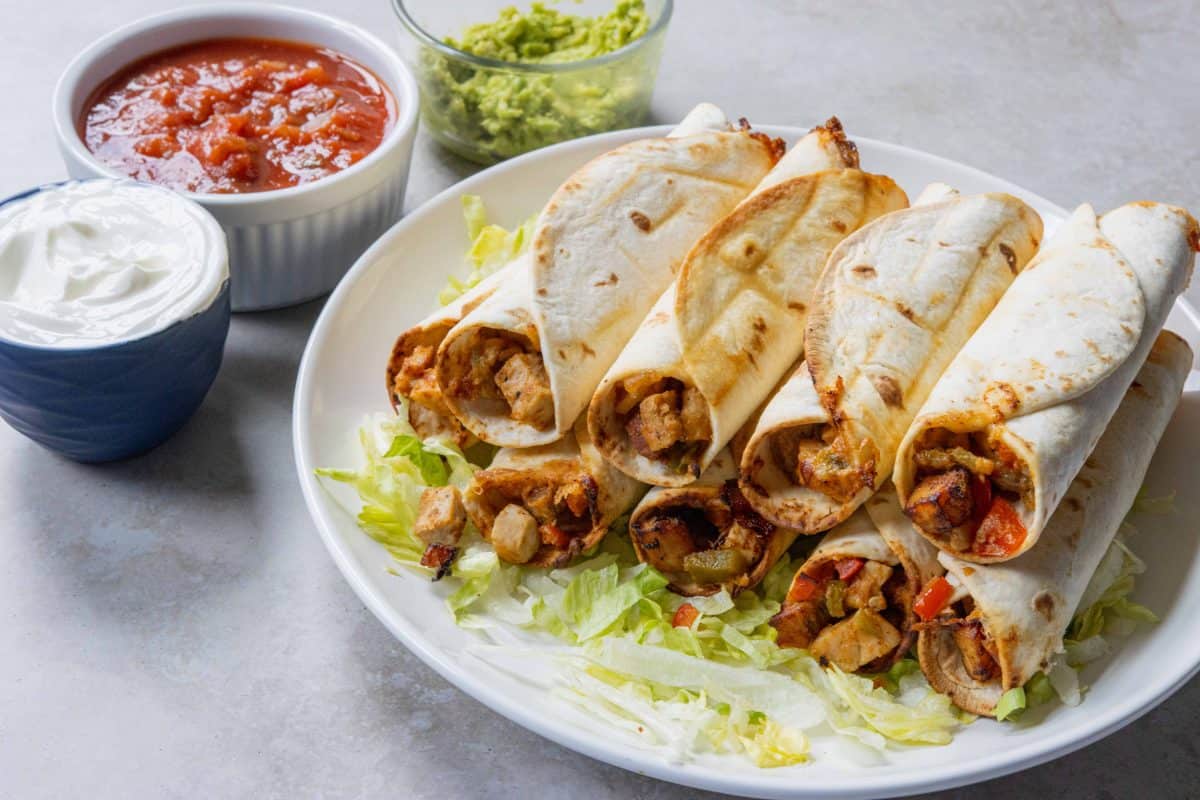 What to Serve With Taquitos
Pair With
Easy Jiffy Jalapeno Corn Bread
Mexican Style Corn Ribs
Layered Chicken Taco Dip
Crispy Shredded Chicken Tacos
Taco Pasta Salad Recipe
Mexican Street Corn Salad
Frito Pie Bake
Taco Stuffed Peppers
Spanish Rice
Dip Into
Guacamole
Queso Fundido
Avacado and Tomatillo Dipping Sauce
Cilantro Lime Ranch
Queso
Cheesy Refried Bean Dip
Taquitos Questions?
What is the difference between taquitos, flautas, and rolled tacos?
Taquitos are small, tightly rolled, fried corn tortillas filled with ingredients. Flautas are larger and made with flour tortillas. Rolled Tacos are similar to Taquitos but larger and topped with sauce after frying.
What sauces and toppings are served with taquitos?
Taquitos go great with toppings like salsa, guacamole, sour cream, cheese, onions, lettuce, and cilantro.
Creative Variations and Fusion Twists on Traditional Taquitos:
There are many creative ways to make taquitos by trying different fillings and sauces. You can use shredded chicken, beef, pork, black beans, sweet potatoes, grilled veggies, unique salsas, fruit-based sauces, or international flavors like teriyaki or Thai peanut sauce.
Are taquitos an appetizer, snack, or main dish?
Taquitos can be served as an appetizer, snack, or main course with sides. It depends on how many you serve and what sides you pair with them.
How to store and reheat?
Store taquitos in an airtight container in the fridge for 3-4 days. Reheat in the oven at 350F for 10-15 minutes for crispy results. Microwaving may make them soft.
What are common side dishes?
Popular sides for taquitos include Mexican rice, refried beans, black beans, corn salad, fresh fruit, coleslaw, or a side salad.